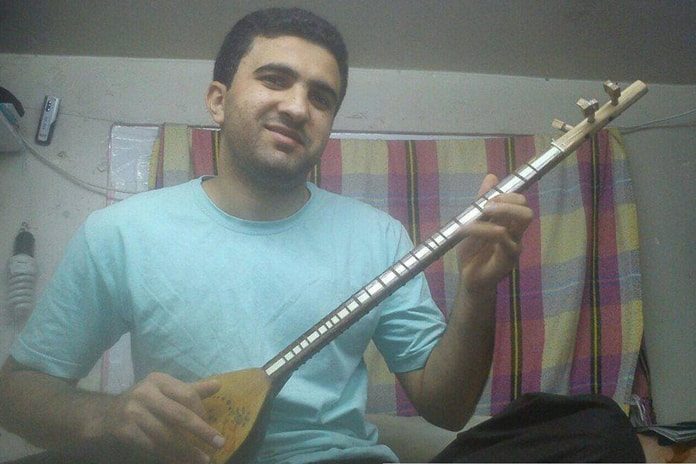 Zahra Sadat Ebrahimi, a civil activist, wrote a letter to Zanyar Moradi, a political prisoner sentenced to death, whose father Iqbal Moradi was recently associated in a terrorist attack in Penjouin, Iraqi Kurdistan, and died.
Zahra Ebrahimi in a letter to Zanyar Moradi, told him, "I read the letter that you wrote to your mother and stood up tall in salute to you". Campaign's copy of letter.
In the part of the letter, Mrs. Ebrahimi said: "The dawn of the morning is near, the morning that enlightens us with the beautiful sun of humanity to our hearts."
Full text of Zahra Sadat Ebrahimi's Letter:
"You live in a country where being a Kurdish is a crime and you have to pay it, and being a Sunni is a double crime, and it is a greatest crime if you do not bend to tyranny. You and your family have all three crimes, What an anguish for you.
I read your letter, the letter you wrote to your mother, and I stood upright in salute, because I did not find any words of hatred and vengeance in any of your words. Is it possible to be captured years after years in a brunt of tyranny, the shadow of the halter (Execution cord) be over you for many years, be away from family for many years and suddenly hear the news of your father's murder, but still do not seek revenge??? Which, of course, was not expected anything more of you. You are so humbled and your enemies are equally full of grudge and hatred!
This unexplained anger reflects the intransigence of the Moradi's family who defend their authority and beliefs to the end and do not give up, and this is the stand that increases your enemies' anger, an anger that is, of course, a sign of a state of despair.
Every night you slept without hoping to see the sun rise again, but did not step away from your beliefs and that made your enemies angry. Each time you did not give in to interrogations, you increased their rage by a hundred times, and whenever you did not force compulsory confessions, you made them crazy from anger, and you repeatedly felt their weakness. And this time with the advice that you gave to your mother: "Now that Father's has gone from among us, for his sake, and his aspirations as before, as a steep mountain, protect my sister, and do not let grudge and vengeance arise in her, for the dream of a beautiful world will not fulfilled with execution and revenge." and you have achieved such a greatness and humanity. It is true that we all live in a country where even its days are like a black night, but the dawn of the morning is near, the morning that enlightens us with the beautiful sun of humanity to our hearts.
"Zahra Sadat Ebrahimi" – Wednesday, July 25th, 2018 "
Zanyar Moradi, a Kurdish political prisoner, "Iqbal Moradi" son, a 66-year-old resident of Marivan, was detained by the "Marivan Intelligent Office" forces on August 5th, 2009 and transferred to the Sanandaj Intelligent Office "News Agency" detention center.
After being subjected to physical and psychological torture, he was transferred to "Section 209 of Evin Prison" and after nearly a month and a half of imprisonment, without the right to meet and contact his family, in Branch 15 of the Tehran Revolutionary Court, chaired by "Judge Salavati ,  was sentenced to death on charges of "killing the son of Marivan Friday's PrayerImam" and " membership in the Komala Party". The prisoner protest against his sentence was not accepted and the verdict was confirmed by the Supreme Court on July 9th, 2011, and one day after the verdict was announced to "Circle of execution of the prison sentences of Raja'i Shahr of Karaj".
Zanyar Moradi in an open letter wrote a note to her mother on his father death.
Iqbal Moradi, 57-year-old, father of Zanyar Moradi, a Kurdish political prisoner on death row, was a prominent political and Human Rights activist fighting against capital punishment and supporting political prisoners and their family.
Ighbal Moradi's body was found and identified on July 17th, 2018 around 23:30, near the Pynjvyn River. According to eyewitnesses, "Ighbal Moradi's body had seven bullets in it."