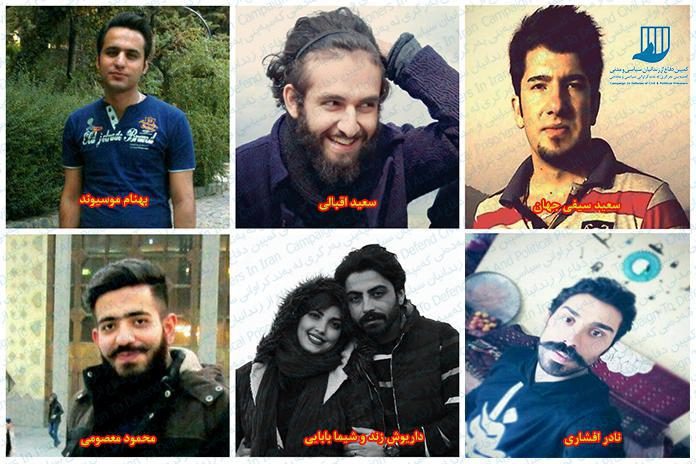 On February 20, 2018, the Ministry of Intelligence agents arrested seven Civil Rights activists, Behnam Mousavand, Shima Babaei, Dariush Zand, Saeed Eghbali, Saeed Seifihane, Mahmoud Masoumi and Nader Afshari. They have been held in Evin prison Ward 209 without access to a lawyer.
Evin Public Prosecutor's Office accused them of charges such as propaganda against the regime and the community and collusion for acting against national security.
Iran's Human Rights Campaign, while confirming this report, also quoted from an informed source: "Most detainees have been able to meet with the family, but still after more than two weeks, the Ministry of Intelligence agents are interrogating them while denying them to have access to lawyer:"
While they are held in solitary confinement 209, the Ministry of Intelligence allowed each of them to have a short call to their family and a one-time family visit, but none of them have attorneys. Interrogators did not allow any of them to call a lawyer and said they could not have a lawyer during the interrogation phase.
According to Article 48 of the Islamic Republic Criminal Procedure Code, "the offender can apply for the presence of a lawyer during detention and a lawyer can visit his client under the supervision and submit written observations for inclusion in the case."
Despite the Article 48, the Ministry of Intelligence interrogators have denied access to a lawyer during the seven Civil Rights activists interrogation and preliminary investigation.
The source said that Evin Prosecutor Office has accused these seven Civil Rights activists of allegations such as propaganda against the regime and community and collusion to act against national security: "There is propaganda against the regime and action against national security are part of everybody's charges, but for some there are other charges, such as insulting the leadership the presidency and connecting with the foreign media."
The source told the campaign that Shima Baba'i's case was also linked to the White Wednesday campaign, which is working towards a fight against compulsory veil.
According to this source, the main reasons for these seven Civil Rights activists arrest and interrogation are posting criticism in social networks, broadcasting political prisoners' news, and recent nationwide protests during the months of December/January.
One of these Civil Rights activists, Behnam Moussavand, has been arrested and imprisoned many times for his political activities. His last release was on May 22, 2017.
On February 15, 2018, Number of his ex-cell mate's political prisoners in Karaj Rajai Shahr prison, Saeed Masuri, Arash Sadeghi, Majid Asadi, Saeed Shirzad, Payam Shakiba, and Zanjar Moradi, expressed concern about the situation of Behnam Moussavand and demanded more attention by Human Rights activists to his case.
The informed source told the Campaign that Behnam Moussivand, the last activist of the group, had a short meeting with his mother in Evin prison on February 15, 2018, while he was in an ill physical condition.
Shima Babaei, Dariush Zand and Mahmoud Masoumi had been arrested and detained in 2017 by the Ministry of Intelligence because of their peaceful activities. They were released after a short time.
The detention of Civil Rights activists in Tehran is part of the reaction of the Jomhori Eslami security forces to the December/January nationwide protests in Tehran.  This resulted in more than 4,000 workers, students, and women arrest. Although most of detainees after the filing of the case and a Temporarily bound were released, but undisclosed number of them remain in detention centers throughout Iran, without access to basic rights such as lawyers and fair trial.