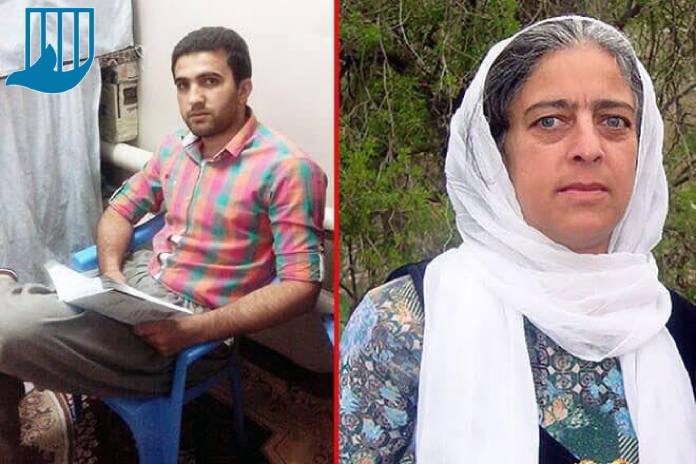 Zanyar Moradi, a political prisoner sentenced to death, whose father, Iqbal Moradi, recently targeted a terrorist attack and died, in a letter addressed his mother.
According to the Campaign for the Defense of Civil and Political Prisoners, Zanyar Moradi, who was arrested and sentenced to death in August 2009, is now in Rajai Shahr prison. After the assassination of his father, Iqbal Moradi, a prominent political activist, and human rights defenders who opposed capital punishment, In the letter addressed to his mother, wrote: "I have not heard your voice for a long time, and I'm getting sadder every day more than the day before." He asked his mother to not to allow the revenge to awaken her and help to plant another Iqbal Moradi in his sister Dideh.
Earlier Zanyar Moradi in an open letter wrote a note to her mother on his father death.
This is his second letter after his father association which a copy was provided to the Campaign for the Defense of Civil and Political Prisoners
The text of the political prisoner sentenced to death letter to his mother, Ameneh Ghaderi, read:
"Mom Giyan (Dayeh Giyan)!
I have not heard your voice for a long time, and I'm getting sadder every day more than day before, but I think with myself that if one day I get a chance to hear you, how can I listen to your voice. I'm afraid of hearing your voice and crying. These days they took away your thirty-four-year life friend and partner and endless grief and sorrow is taking over you, I have a request, I pray not as your child, but as Comrade Kak Iqbal, who his body has been targeted with bullets.
Mom Giyan (Dayeh Giyan)!
Surely, if today, instead of bullets in my father's body, there was a sign of noose around my neck, he was speaking to you instead of me and not for a moment he would allow himself to think of revenge. Because he was living with the dream of the world without execution and a world full of peace and justice. You know him better than anyone and familiar with his feelings, his laughter and his desires with all your soul and strength. You know better than anyone that even the slightest thought to revenge is behind the dream of father.
Mom Giyan (Dayeh Giyan)!
My dear and heart acing mother, in these ten years of my captivity, whoever knows us, knows that all this suffering and years of living with my execution Rope was for the revenge of my father. I believe that the father, who was in a tense siege of the ten-year captivity of me and became a victim of this tragedy, has never thought of revenge. He did not think of revenge because he did believe the dream of beautiful world will be possible with execution and revenge. Now that Father is not physically here with us, for his sake and his great aspirations, as in the past, stay strong and protect my sister as a strong mountain and do not let the seed of revenge plant in her soul.  And this time the Father must be born in my sister 'Dideh". This birth without your teachings will never happen.
Zanyar Moradi – Raja'i Shahr Prison – Monday, July 23, 2018 "
Ighbal Moradi's body was found and identified on July 17th, 2018 around 23:30, near the Pynjvyn River. According to eyewitnesses, "Ighbal Moradi's body had seven bullets in it."
Previously, Athena, a human rights activist and a political prisoner at Evin Prison, in a letter, have also strongly condemned Iqbal Moradi assassination and murder.
Zanyar Moradi, a Kurdish political prisoner, "Iqbal Moradi" son, a 66-year-old resident of Marivan, was detained by the "Marivan Intelligent Office" forces on August 5th, 2009 and transferred to the Sanandaj Intelligent Office "News Agency" detention center.
After being subjected to physical and psychological torture, he was transferred to "Section 209 of Evin Prison" and after nearly a month and a half of imprisonment, without the right to meet and contact his family, in Branch 15 of the Tehran Revolutionary Court, chaired by "Judge Salavati ,  was sentenced to death on charges of "killing the son of Marivan Friday's PrayerImam" and " membership in the Komala Party". The prisoner protest against his sentence was not accepted and the verdict was confirmed by the Supreme Court on July 9th, 2011, and one day after the verdict was announced to "Circle of execution of the prison sentences of Raja'i Shahr of Karaj".